OUR RESPONSE TO THE WELLBEING OF OUR COMMUNITY
Besides the immediate measures we have taken to protect our staff and clients as per federal and provincial regulations; our duct cleaning service now includes Benefect® Disinfectant FREE of charge which disinfects furnace and a/c components as well as ductwork it comes in contact with*. It is 100% green, family and pet safe ( regularly $79-$99 per application )
*This is not meant to fully protect your home from COVID-19. It is an additional precaution that can be taken. We urge you to follow sanitization guidelines from provincial or federal health officials only.

Expert, Professional Service
Best Value and Customer Satisfaction in Calgary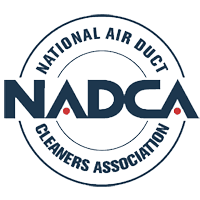 $70 OFF REGULAR PRICE – LIMITED TIME –
Our furnace cleaning includes:
Full System Cleaning 
No Extra Charge for Mid & High Efficiency
1 Furnace included
Includes 10 Air Vents*
General System Check
Prices do not include GST and Environmental Fee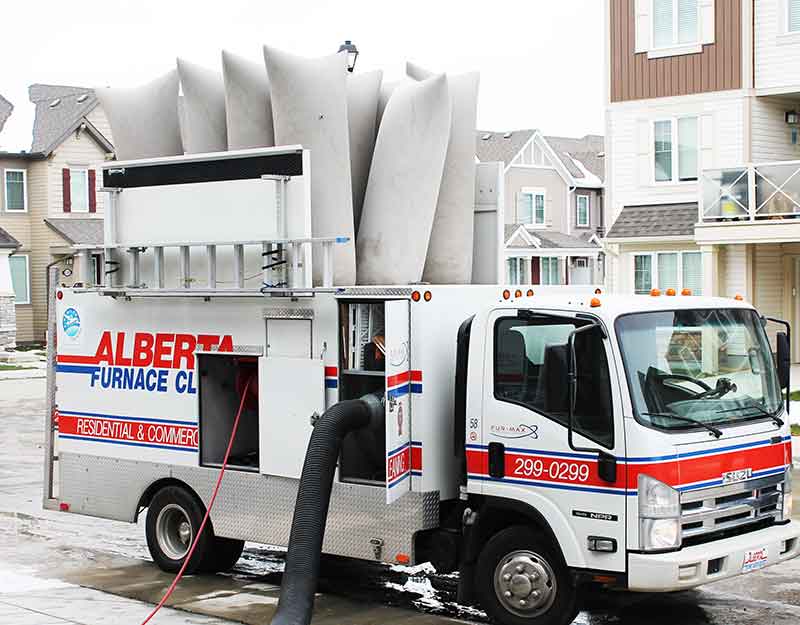 TERMS AND CONDITIONS
Subject to availability. All vents in a house must be cleaned. Package includes 1 furnace and 10 vents additional vents are $ 9.95 per vent. The minimum call is $99.00. GST and Environmental fees not included. Some restrictions apply – call for details.
john Marzouk
22:45 18 Mar 20
Great service! Quick and reliable
Gilles GCBB
05:01 03 Mar 20
Jordan Janssen
22:13 27 Jan 20
Friendly, knowledgeable and professional staff that did a great job cleaning our ducts. Took the time to go over the pricing before starting work and

...

made some good recommendations for updating our thermostat and installing a modern humidifier. I'd definitely recommend Cass and Deanna.

read more
Dolores Dizon
18:33 21 Jan 20
Great response times. The lady that took the booking was very professional and explained how the pricing worked in detail even before the service

...

team came out. The service team came out the day it was minus 25 outside! They also went over the pricing first and made some recommendations to sanitise that I appreciated. Overall a 5 star experience!

read more
fatema heeat
00:04 19 Jan 20
We had an awesome experience with Alberta furnace!! We needed our ducts cleaned and they did an amazing job!!! Couldn't have been happier. Our techs

...

were amazing and super nice. We did have issues with booking our appointment initially but they fixed that as soon as possible, with compensation! I will absolutely call them for all our furnace needs

read more
Mamtha Dhulipala
18:53 15 Jan 20
Service was on time, courteous and professional. Got pomegranate stains out of our carpet. Competitive price. Highly recommended.
Howard Bakken
23:44 08 Jan 20
Marina Kerr
20:42 06 Jan 20
Professional service, Cassie was easy to chat with and did a great job!
I just got all my Carpets cleaned by Alberta Carpet Cleaning and the Tech Taylor aho did the work was outstanding. He was detail oriented and

...

professional.Great service thanks

read more
Andreas Spring
20:39 02 Jan 20
Jennie De Rosa
19:11 20 Dec 19
I used Alberta Carpet Cleaning and Mike was fantastic. He was fast and thorough and very efficient. I will use them again.
Michelle Gibson
17:51 17 Dec 19
This is an excellent company to deal with. Taylor came on time. He was very professional and did an incredible job! I would highly recommend them!
Sonnie Martin
02:01 11 Dec 19
Great work on my carports today by Mike with Alberta Furnace Cleaning. Prompt, efficient amount of time, and considerate of the space and my time.

...

Highly recommended:)

read more
Denisa Baxter
18:58 10 Dec 19
Ruslyn Espina
18:21 29 Nov 19
Mike was very professional, curious and did a great job on the carpets.
Tyler and Deanna were just here. Absolutely the best. It has been quite a few years since our furnace and vents were done. Very friendly and very

...

easy to talk to. Service took just over an hour. I'm so impressed with these two and how well they worked together. Thank you for the amazing service. Merry Christmas... Blessings in the New Year...

read more
Margaret Doubinin
22:23 26 Nov 19
Lisa Sutherland
21:33 23 Nov 19
I have used Alberta Furnace Cleaning many times for two homes now. I always call them back because they are careful, courteous, professional and

...

always polite. They always arrive in the time-window that is given too. I would highly recommend them.

read more
Cowtownbaldie
15:35 23 Nov 19
On-time, very careful and did a great job. Would recommend and use their service again for Carpet Cleaning..
Scott Lambert
05:04 28 Oct 19
Wonderful service, knowledgeable staff, we have them come to clean our furnace regularly.
Jennifer DeLeon
17:34 07 Oct 19
very happy with the their services that they provided our offices with, thanks again.
Don Fredric
15:18 03 Oct 19
Erwin Mendoza
03:49 09 Sep 19
Islam and Justin were awesome. Thorough and efficient! Most helpful too!
Jane Oswald
23:21 21 Jun 19
We had Wayne and Daylan come out to our home in Airdrie. They were very pleasant individuals, and they were really great with our young daughter.

...

Both were also very considerate and respectful of our home, and were quick and efficient. Thank you!

read more
Kiley Handley
19:57 05 Jun 19
I am so happy I used this company for the second time, different city and same great service. My techs Justin and Jeremy were awesome!! They were

...

punctual, efficient, super friendly and completely transparent in the pricing and add-on options. Will definitely use again and recommend to anyone.

read more
Barbara Mattson
13:38 25 May 19
The furnace and duct cleaning crew (Jeremy and company) were fantastic! They did an excellent job, informed me about the condition of my furnace and

...

water heater, and gave me some maintenance tips. As per the time window they provided, they were right on time, and even timed it perfectly since we were cleaning the carpets with the same company on the same day. (Which was also fantastic and would definitely recommend).I will definitely be using them for future services.

read more
Jero Bilic
16:04 31 Mar 19
Arrived on time. Appointment confirmed a day ahead and morning of. Service as quoted and technician explained every step and any options. We quick

...

efficient and I'm very happy.

read more
Lee Mellersh
19:50 24 Mar 19
Karlie Jaha
03:39 23 Mar 19
Very professional workers and a good job of cleaning.
Carol Hughes
02:19 02 Mar 19
Efficient cost sensitive servicing and repair of my daughters furnace humidifier. Thank you Tim and Fareed.
James Allinson
01:14 30 Jan 19
Bobby cleaned our carpets last year and when some unwanted stains came up, for no extra charge, he came back to deal with them and gave us some tips

...

to help keep them away in the event they migrated back. Very pleased with our technician in being so helpful.

read more
The Cat Nanny Calgary Cat Central Station
23:14 27 Jan 19
Great Job by Islam and Steve - they were thorough, prompt and professional. Highly recommended!!
Barry Windsor
21:23 14 Jan 19
Justin & Islam did an excellent job of cleaning up after themselves and explaining the furnace and duct process. I was particularly impressed with

...

how they identified areas that were not cleaned by the former cleaning company. Thanks guys!

read more
Jason Brake
22:33 12 Jan 19
2 men came by and were prompt, polite and courteous. They explained the process and took care not to damage our home. We will use Alberta Duct and

...

Furnace Cleaning again.

read more
S Sandercock
22:43 11 Jan 19
Excellent customer service and Technicians Wayne and his assistance Deanna are very knowledgeable and nice. He is very good at his job. He answered

...

all my questions and explain everything to me. I will keep Alberta Furnace Cleaning again on my next furnace cleaning.

read more
Jessica Ng
22:11 07 Jan 19
Good company and professional techs.
Farid Gadimov
10:59 04 Jan 19
In August 2018 I had a duct cleaning and furnace cleaning done by Orville and Jovan. I found them knowledgable and very helpful as well as doing an

...

amazing job...… very different from other companies I dealt with in the past. They even noticed that I needed a new humidifier and with their recommendation that was done as well. I would highly recommend this company!!

read more
Madelaine Mailhot
17:46 10 Dec 18
We have been using them since we had house built in 2003, always professional and do a grant job. Love Cassidy who has always been the one to cone

...

out and clean for us.

read more
Karen Stallman
16:49 05 Dec 18
We had some issues after the duct cleaning service but Alberta furnace cleaning was quick and professional on follow up and repaired all the issues.

...

I worked with operating manager, Sam to resolve the issues and he was very courteous and professional.

read more
seung hak pack
04:03 21 Nov 18
Very punctual professional and helpful. Dylan and Steve were great! They even went was far as to tell our four year old went to plug her ears to any

...

load noises. Above and beyond. Cost savings advise given. Simple is better. Would recommend this company to everyone.

read more
Jason Stang
22:20 17 Nov 18
The team that came out to my house (Cathy was the lead) were professional, very fast, and did a great job cleaning both my fireplaces. I would

...

definitely book with this company again!

read more
Caitlin Quarrington
21:06 13 Nov 18
Great Service and fast, highly recommended!!
2 people came to clean our furnace. Both were extremely cordial and polite and had the job done in no time. There was no mess at all after they

...

left. In fact all my vents were cleaned and or wiped down. We are extremely pleased. We've used Alberta Furnace for a number of years and will continue.

read more
Excellent service, prompt, efficient, personable and honest. Would not hesitate to use them again.
Mark Gregory
22:28 29 Oct 18
Professional Service and great Team! Duct cleaning were painless and very well done, I definitively recommend the service!
Was very pleased with the furnace and duct cleaning service and would not hesitate to recommend the service to all of our friends. Wayne and Shawn

...

did a fantastic job and were a pleasure to work with.

read more
Outstanding service!! Professional, knowledgeable and a pleasure to deal with! We would highly recommend their service.
David McCorkill
23:21 25 Oct 18
Punctual. Professional. Would use them again in a heartbeat.
Sandy Sheridan
02:02 23 Oct 18
Just had a humidifier installed Tim was professional, efficient and very knowledgeable. Thank you Alberta Furnace.Karen and Kevin Robertson
Karen Anderson
16:03 19 Oct 18
Great Service! Jeremy and Cam were professional and thorough.
Jennifer Vowels
12:56 18 Oct 18
Bobby was on time, professional, efficient and did excellent work!! Very happy with the results and the price.
Julie Kromm
02:30 16 Oct 18
I have two service to review last week of August Furnace cleaning duct cleaning technician Jeremy B and Roba great team work very polite and

...

knowledgeable service technician. Thank you :)Furnace tune up first week September technician SarahSarah did a great job to educate us in terms on trouble shooting and safety on our furnace. this team are highly recommended. Thank you 🙂

read more
claire diaz
23:13 13 Oct 18
Prompt, friendly, professional service. Cassie, Dylan and Steve introduced themselves upon arrival, discussed what they would be doing, reviewed the

...

cost of the service so there were no surprises and arrived exactly within the window I was given. I would highly recommend and will definitely use Alberta Furnace Cleaning in the future.

read more
Marleea Ashauer
19:28 28 Sep 18
Chad and Michael came to my house today and cleaned the ducts, both were very friendly.The work was top notch and very professional.Thanks guys
Laura Crowe
18:36 28 Sep 18
Excellent customer service and Technicians are very knowledgeable. I don't remember getting my technician's name but he is very good at his job. He

...

answer all my questions and explain everything to me. He is on top of everything during the cleaning procedure as well. I will hire Alberta Furnace Cleaning again on my next furnace cleaning.

read more
Ethan Jasmin
22:43 25 Sep 18
Cass & Dylan were awesome. Quick, clean and full of tips on saving $$$. This is the second time I've had Cass. I requested her this time and will

...

continue to.

read more
The crew led by Cassie was on time and very friendly. They came in and took care of my furnace, vents and dryer line in an efficient and timely

...

manner. Will definitely use AFC again next time!

read more
Michael Wong
00:11 18 Sep 18
Great friendly service. Both office and field staff is knowledgeable and personable. I would definitely recommend this company for your next furnace

...

service.

read more
Easy to book. They followed up with reminders and gave good estimate on arrival time. They arrived on time. The technician was friendly and worked

...

efficiently. The carpets look great. Happy to recommend this service.

read more
Debbie Flanagan
20:46 13 Sep 18
Jeremy and Kam were reliable, efficient, and friendly. Jeremy was especially helpful in educating us on the process as it was our first time. It

...

was a pleasure dealing with both members of their team. Rates were reasonable. I would highly recommend them!

read more
Bonnie Portelance
15:27 08 Sep 18
Excellent service by Sarah. Very impressed with her knowledge and her expertise. She is a great ambassador for the company. Will certainly use them

...

again.

read more
JACOB GEORGE
16:42 01 Sep 18
Great Service. affordable and does the job. no need for seconds. They are awesome.
Ahmed Sanad
12:49 28 Aug 18
Excellent service carried out by Tech Izzy and Helper Shawn. They both went above and beyond by explaining extra features and instructions on

...

household air quality pursuant to my many questions. They were both polite and professional and took care when accessing ducts etc around furniture. Shawn even moved my couch back to its original position following cleaning of ducts. I highly recommend Alberta Furnace Cleaning and in particular Izzy and Shawn.

read more
Kelly St. Germain
22:24 20 Aug 18
Wayne and Shawn were super nice guys and very professional the entire time they were in my home. The furnace was cleaned quickly plus we were given

...

cost saving tips regarding our dryer that we had no idea about before. The price was also fair not too crazy. Great company to use no question!

read more
Corrina Head
22:35 15 Aug 18
Excellent experience with Dylan. He was extremely knowledgeable not just with his own products but with stuff we had at home. Friendliest guy I ever

...

met and he did a grrag job. Would definitely recommend him again.

read more
Don Soz Hill
13:53 26 Jul 18
Called the company and gave me a very affordable quote. Had a very good experience with the staff that came to do the cleaning service.
Michael Andres
18:19 25 Jul 18
Top Notch from the booking to cleaning. Very professional and knowledgeable and give us lots of useful information. Highly recommend. Very fair price
Michael King
20:05 24 Jul 18
We had them in today to clean our home. Wow! Quick service incredibly helpful, professional and knowledgeable
Lauren Feenstra
22:40 23 Jul 18
Recently I received the excellent professional service from Wayne, Steve & Cam of Alberta furnace cleaning. Now I have clean ducts & dryer vent.

...

Great work, gentlemen!

read more
Sabina Lee
03:37 22 Jul 18
They're friendly and very professional. Excellent service! 👍👍👍👍👍
Precios Sacdal
02:23 16 Jul 18
Excellent work. The technician was courteous, respectful, and friendly. They followed up the next day to make sure we were happy with our service.
Miles Seppola
15:24 14 Jul 18
Izzy and Jovan were extremely patient and knowledgeable. They answered all of our questions, worked quickly and efficiently and were happy to

...

explain what they were doing.

read more
David Hall
22:41 13 Jul 18
Great service and fair price. Wayne was very knowledgeable and gave me a lot of great tips on how to optimize my furnace's performance, which I

...

appreciated as a newer home owner. Would highly recommend.

read more
Nicole Sherren
23:20 10 Jul 18
We received a flyer for a coupon on their duct cleaning services. We had received several coupons from different companies, but they had the best

...

reviews by far! So we gave them a call, and they were WONDERFUL!! We are just renting our home, and we're thrilled that the coupon we had was able to save our landlord some money...as we hate to ask for anything! We had technician Izzy, and helper Shawn - and they were both awesome!! Super sweet, friendly, professional, and it was such a great experience! Izzy was amazing at giving my husband tips on furnace maintenance, and we also got our air conditioning unit serviced, the dryer vent cleaned, and the intake air for the furnace cleaned. I will call them without hesitation the next time we need service, and hopefully we're lucky enough to get Izzy and Shawn again! I have already recommended them to our friends! Not to mention, we already notice how much less dust there is in the house! Bonus!! Great customer service is so hard to come by these days. So it's extra appreciated when it's as wonderful as this! Thanks so much! 🙂

read more
Orville and his assistant were cheerful, polite, and professional. They arrived promptly and completed a quality job without delay. I appreciate the

...

suggestions provided around furnace care and maintenance and will be calling next time I need furnace and duct cleaning services. Than you, guys!

read more
Excellent service! Was easy to book and we had lots of follow up to ensure that the scheduled time was met. We will call them again for any carpet

...

cleaning and for our furnace service this fall!

read more
Gerry Huizer
23:15 21 Jun 18
Salim did a great job on our carpets on May 31. Very impressed by quality of work. Would recommend!
Brandon Anson
21:33 10 Jun 18
I am selling my house so I had to clean and tune up my furnace. I called Alberta Furnace Cleaning and they did a thorough service. Jeremy and Patrick

...

have been very friendly and professional. I would recommend Alberta Furnace Cleaning

read more
Donat Hemmi
03:02 03 Jun 18
They did a great job and showed up on time. Very professional.
Catherine Stowe
15:48 02 Jun 18
Thank you to Jeremy and Sarah for a job well done. They were very curtious, professional, and helpful. The staff in the office who I spoke to to

...

make the appointment and who confirm the appointment provide 5 star service.

read more
Dewald Delport
23:11 29 May 18
Wonderful furnace cleaning service from Orville today!! Will definitely use and recommend Alberta Furnace Cleaning in future.
Julie Williams
21:03 25 May 18
Our techs Riz & Shawn were awesome! They were professional, timely and got the job done the first time. Highly recommend them and will definitely

...

use them in the future!

read more
Tameeza Mitha
20:36 14 May 18
Excellent service, polite crew and good price.
Andrea Pomba
04:21 01 May 18
The technicians were extremely knowledgeable and went out of their way to explain the process. They even took the time to show me the before and

...

after results of service. Didn't realize how bad the bathroom vents and dryer vents were. Thanks again Riz and Roba for your professionalism. If you're looking to have your furnace and vent serviced or cleaned definitely give these guys a call.

read more
hanif bhanji
18:53 30 Apr 18
The fellow who did our carpet and upholstery cleaning was fantastic! He was very thorough and efficient. I would recommend to any of my friends!
Jordan Neilson
22:24 09 Apr 18
Thank you again Islam and Sarah! I have never written a review before but these folks were simply awesome and I just had to navigate my way to this

...

review page to express how very impressed we are by their service and professionalism. Despite arriving 30 mins early and having to wait, they still came in with smiles and patiently answered every question we had, regardless of how basic. They were super-professional and very thorough in their approach. Now our home air is cleaner than ever! I have to mention that it's been a really long time that I have seen someone perform work with as much passion as I saw with Islam. Because of these guys, I am going to also book my carpet cleaning service with their company!

read more
Modupe Ore
18:17 30 Mar 18
Wayne was the technician who came to do my service, and did an excellent job. He was very helpful and answered any questions that I had. I will

...

definitely be using them again and recommending them to my friends

read more
Josh Woods
19:47 29 Mar 18
Cass & Izzy were timely, professional and easy to work with. Our home was tricky to have a furnace cleaning as our utility room is so small. They

...

were able to maneuver around it, and work with that we had. They also did a dryer lint cleaning for us 🙂 Our house has been relatively dust free and easy breathing ever since. Highly recommend.

read more
Sheena Williams
22:51 04 Mar 18
Riz & Cole were my technicians and they were incredible! Quick, polite, informative and very professional. I would recommend Alberta Furnace to any

...

friends/family after the great service I received. Great work by Riz & Cole, for sure! Thanks guys!

read more
Paul Mawdsley
03:21 15 Feb 18
Jamie revitalized our furnace. As was with our carpets (another review)...our furnace was not left in the best of conditions. Jamie came in this

...

morning and walked us through where the furnace was at, what needed to be done and have to keep things up to snuff moving forward. He was friendly, knew his craft and made sure his gear did not affect our house. Appreciate the A+ service. Thanks guys.

read more
Chad Moore
20:27 04 Dec 17
Fabulous service. Staff was prompt, polite, professional and very trustworthy. Will definitely hire this company again for this service in the

...

future.

read more
Heather Rondeau
14:10 30 Nov 17
Jamie & Victor were great! They arrived on time and provided excellent, professional furnace and duct cleaning service. Would definitely recommend.
Vickie Grover
14:27 29 Nov 17
Jamie and Victor were great. They were on time, gave great service and did a thorough cleaning of our ducts and furnace. I will definitely be using

...

them again for future service!

read more
Brian Fortier
18:13 18 Nov 17
Cass and Steve arrived on time, were thorough, identified additional issues that we weren't aware of, and fixed them right on the spot. I've been a

...

delighted customer of Alberta Home Services for a number of years and I continue to be delighted.

read more
Cindy Stephenson
21:22 14 Nov 17
Great service, Cass and Sarah were excellent. Definitely recommend their duct/furnace cleaning service
Abraham Oniku
19:29 20 Oct 17
Cole and Jeremey we're fantastic. They were fast, friendly and very professional. They explained everything that was done on the work order and gave

...

recommendations on how often each item needed to be done. We would definitely recommend their services for anyone needing their furnace and ducts cleaned. Thanks guys!

read more
Mark Laing
16:57 08 Oct 17
Riz and Cole cleaned our furnace and ducts last week and did an outstandingly thorough job. They were prompt, professional and answered my questions

...

with courtesy and expertise. I would highly recommend Alberta Furnace Cleaning to anyone and will definitely use them again in the future. Thanks for a job well done!

read more
Greg & Doris A.
19:56 26 Sep 17
We had our carpets cleaned today by Timothy M. He was efficient, thorough and friendly. He paid extra care and attention to the spots that were dirty

...

from our dog. I will use Alberta Carpet Cleaning again in the future!

read more
Krista West
15:43 18 Sep 17
We have been using Alberta Furnace Cleaning Calgary for 5 years. When you call, ask them for 'Riz'. He is a good guy that takes great pride in the

...

quality of his work, and consistently does a great job for us. I recommend the company... and more importantly I recommend Riz highly!

read more
STEPHEN ENGLISH
17:06 16 Sep 17
Cote And Jeremy did a fabulous job. They were quick, efficient and explained the procedure and recommendations for my current thermostat. Great

...

job, I recommend this company!

read more
Nancy Miller
16:48 16 Sep 17
We have used them for a few years now, since the flood 2013. We had to mitigate a mold problem in our basement. We were not quite finished the job

...

when we had our first booking with them. When thy showed up the woman who led the team told us not to clean our furnace until we were done with the renovations. When they came back to do the job she was very thorough and made sure we were aware of what to look for in case any mold spores were still in the system. She then gave us two filters that were sprayed with an agent that would help to irradiate any remaining mold spores that were still in our home. Each year since, she has watched specifically for mold in our system. This year she recommended a permanent filter "now that you are remaining mold free". It would have been easy to take advantage of us and gone ahead with the initial service knowing we would have had a continuing mold issue. It would have been easy to sell us the permanent filter before determining that our system would be mold free. These people are honest and care about the job they do, not just the money they can make. I highly recommend their services.

read more
Jeff Wilkins
16:16 16 Sep 17
We had a couple of young gals do our furnace cleaning and our fireplace chimney. I was amazed when this large truck pulled up and out came these

...

two. They hauled in all the equipment and got the job done. They were for sure the most professional service I have had on my home in terms of their attitude, their manners and the attention to our home. They were honest, helpful and helped us better understand how to maintain and care for our relatively new furnace. I called the company to comment on the manner in which these girls conducted themselves and the job they did. As a small business owner I understand and appreciate the value of great customer service. I highly recommend them and have their sticker on my furnace so I know how to get them next time.

read more
Harlene Day
22:08 15 Sep 17
Had our high efficiency furnace and 25 heating/air return ducts cleaned by Cole and Jeremy on Monday, September 11, 2017. Courteous and quick! Will

...

recommend for sure!

read more
Excellent service and highly knowledgeable techs. I will recommend them to my friends and call them again. I would love to give 5 stars except one

...

reason. There were two techs. Both were good. One guy was very agile but I felt like compromising the quality of his work due to his quickness. Also he was not using the extended rotary cleaner that could have improved the quality of cleaning and my satisfaction.

read more
The service we received was excellent. My carpets are 14 years old and look brand new. I would recommend this company, this is the second time we

...

have used them and have been satisfied both times. Their prices are very reasonable. My husband was the one at home but he said that Dagan was very friendly and professional.

read more
Jennifer Monteith
15:19 28 Aug 17
First time using this carpet cleaning company and very glad I did! They did an excellent job cleaning my extremely stained carpet, got everything out

...

and was quick. I highly recommend them!

read more
Kelly Harder
19:06 19 Aug 17
Cass, Izzy and Shawn did an amazing job. Turns out the previous owners hadn't done any duct cleaning and this team did a terrific job of cleaning and

...

made everything like new. Highly recommended.

read more
This company and staff went above and beyond. They were polite, courteous and well mannered I highly recommend them.Thanks again guys.
Randy Fehr
01:00 31 Jul 17
This is our first time using AFC service and we have very satisfied with the work done. The company provides professional service with friendly

...

staff! The price is affordable.

read more
Excellent service and results from Trish and Sarah. The team was punctual, courteous, knowledgeable and got the job done promptly. I would love to

...

have them return for my next furnace cleaning. Company was also organized and called prior to confirm appointment and time window.

read more
Janice Yan
18:58 22 Jul 17
Great job for Riz and Cole. They help and teach me a lot about my furnace. I will surely recommend alberta furnace cleaning especially riz and cole.
Had Tim out to do an inspection tuneup on our furnace. I was very impressed with the thorough service he provided. Will definitely use them again in

...

future!

read more
Dalis Wynne
04:25 10 Jul 17
They were fast and efficient, and everything was done perfectly. Definitely recommend them!
The technicians (Jamie and Cole) were very professional- very respectful of our property and answered all our questions. We've booked them for a new

...

water heater (our current one has lasted 14 years) and will be following up on a quote for air conditioning. Good people and a good company.

read more
Great service - on time, very efficient, very conscientious of our home and pets, and very friendly and informative. Trish and Jeremy were a pleasure

...

to deal with!

read more
Michael Boutilier
19:21 04 Jul 17
Jamie and Trish did a great job. Well done and price was right!
Chris Nicholson
17:15 29 Jun 17
I recommend them if you are looking to do your furnace cleaning. I also hired them to install my air conditioning unit and it all went very well.
Jasen Farnid
10:24 21 May 17
Great company, they do quality duct cleaning work
sobuj rana
17:33 18 May 17
Loved our experience. My husband booked them for a Saturday and they confirmed a time frame for which they would arrive and they honored that time

...

estimate. Their two employees (sorry I forgot names!) were kind and professional and made sure that our pets and our young son would be ok with the process (as it's a bit noisy and the door must be left open). Our questions were answered and they took time to explain what they were doing. The whole process didn't take that long and the final price was fair and according to what was discussed before. We will definitely use their services again.

read more
Sara McCullough
22:27 27 Feb 17
Very professional, took care and provided great advice. The final price, with the additional vents (over 10), was exactly as quoted. Highly

...

recommend their services.. I did just as many of your are doing in reviewing customer comments and posts. Call them, you won't be disappointed. Make sure you count all your vents including return airs. All the companies out their charge for anything over 10. Aaah, fresh air,,,

read more
I had no idea how important furnace and duct cleaning is for a home. I have lived in my house for 2 years now and never got the service. I noticed in

...

the last year that the house was getting very dusty, very quickly, I did some research and turns out this has to do with the upkeep of the ducts. Anyways called them, had great experience, I will hire them again, thanks

read more
We recently purchased and renovated a new home, and had Alberta Furnace Cleaning come and clean our furnace. Since we used them in our rental, we

...

were confident that they would clean our furnace perfectly after all the renovations. Cassie and her team did an amazing job! She showed us the furnace filter and took the time to explain our system, even replacing our humidifier filter and getting it all up to par. The dust amount that settles is now significantly reduced and it feels so clean (and yes, less dusting)! Will definitely be having them back again...we highly recommend Alberta Furnace Cleaning and a HUGE THANKS to Cassie and her team!

read more
Amber Bryan
18:17 24 Nov 16
Had technician come to my home and they were very informative as well they were done in a timely manner so they did not interrupt my schedule. Very

...

nice experience.

read more
Robin Wagner
18:21 22 Nov 16
I have use this company for many years and they do a wonderful job. The staff is very knowledge from start to finish. i will use this company for

...

years to come.

read more
Sandra Dart
17:33 17 Nov 16
My experience with Alberta Furnace Cleaning was excellent! They explained the process in detail for what they were doing. They were very kind and

...

personable. Pricing was on par with other companies and with the experience and dedication they have, I will recommend them again!

read more
It can be daunting to find a new company, no matter what service you are looking for your home and these guys are easy and fun.
Doland Daniel
12:34 12 Nov 16
The Best Service Ever! Affordable price, professional service and exceptional staff. I'll only use Alberta Furnace cleaning in my house from now on.

...

Thank you!

read more
Nawang Lhamo
21:31 11 Nov 16
I have not had my furnace cleaned in awhile so when Wayne and Steve came to our house they were very good about explaining what I needed done. The

...

service they provided was excellent. Both were very polite and thorough in their work. I would and already have recommended this company to family and friends.

read more
Shelley Rudd
00:42 10 Nov 16
Gabriel Heffes
02:23 08 Nov 16
"Best Experience" The ladies that booked my call were very friendly and answered all my questions- Fit me in last minute!. The guys that cleaned my

...

furnace did such a wonderful job, very clean. I will use Alberta Home Services again.

read more
Danielle Ropson
18:36 07 Nov 16
Excellent service and very clean. The two people that came were very knowledgeable and professional. Will recommend them to my friends and definitely

...

will call them again.

read more
Chuck Valderrama
21:50 07 Sep 16
I was impressed with this company from the first phone call through to the completion of the work. The person I spoke to on the phone was friendly,

...

knowledgeable, helpful and efficient. We were really pleased with the work Riz and Izzy were great doing the work in our home. They were professional, kind, efficient, helpful and answered all our questions. We were pleased with our entire experience, start to finish and highly recommend this company for duct cleaning.

read more
L.J McNeil
06:08 21 Jul 16
Dryer vent cleaning done by the Alberta Furnace Cleaning crew--- Excellent! Super friendly and nice maids and they do a thorough job in a very timely

...

manner! Love the ability to book online, the response time is great.

read more
KIRSTIN TEREASA
10:54 10 Dec 15
Isy did a great job cleaning the furnace of our home, we can breathe already fresher air. Thank you Alberta Furnace Cleaning ..
Katherine Melissa
13:05 13 Nov 15
Thank you Mike K for doing an excellent job on cleaning our stairs and upstairs carpet. This guy got through some spots I wasn't sure could come out

...

and our white carpet is looking better than ever! Highly recommend their services.

read more
Betty de Vries
01:51 03 Nov 15
She came to do our vent cleaning and unclogged our dryer vent from all the lint built up over the year, nice work Cassie!
Christopher Brown
19:10 20 Oct 15
They did our dryer vent, we haven't cleaned it in a while and we read these can ignite and cause fires, so we called Alberta Furnace Cleaning.
SMN Emeran
18:34 03 Oct 15
Alberta Furnace Cleaning did our duct cleaning last Monday. Good job, Joe. I will use you again for your nice efforts.
Andy B. Brian
12:31 26 Sep 15
I am very happy with the work these guys did cleaning on our HVAC system. They are very much professional. I highly recommend them
Amili Gottlibe
23:22 21 Sep 15
The furnace cleaning guys at Alberta Furnace Cleaning did an excellent job, good work Cassie on our commercial space, thank you .
Andrew Morrison
04:51 05 Aug 15
This company was very efficient when the furnace techs came in to clean the ducts in my building. I was expecting a day full of noise and general

...

discomfort, but was pleasantly surprised with how well they did in cleaning quietly and being minimally invasive. An impressive company that is evidently focused on being professional.

read more
I had a furnace cleaning done by Alberta Furnace Cleaning. It was done on my property by Bragg Creek. I enjoyed working with them, and would

...

recommend their services to my friends. Thanks!

read more
Chloe Chavarre
19:07 06 May 15
Overall experience was just fine. Riz and Shane did a great job duct blast cleaning our home in Tuxedo Park.
Wow service, furnace cleaning done to our home in Taradale
James Butler
16:31 22 Apr 15
Used these guys to clean a VERY DIRTY 30 year old furnace at my mom's house and they did everything I asked. My mom was really happy and said her

...

furnace has not looked like this in a long time. Very impressed and would recommend Alberta Furnace Cleaning.

read more
Stephanie P
21:51 20 Apr 15
I have come to expect the very best from AFC, and they did not disappoint this time either. They cleaned our ducts in our home and did a really great

...

job from start to finish. It was a breeze to set up and their crew is courteous and professional. I would definitely hire them again.

read more
Angie Wilson
10:31 18 Apr 15
Nice people finished their work in time, furnace and duct cleaning done in our townhouse by Woodbine
Andrea jessei
17:25 17 Apr 15
we are pleased at their service, vent cleaning and chimney cleaning at our townhouse in Cedarbrae
P Yip Suen
17:01 17 Apr 15
Alberta Furnace Cleaning did a good job. They clean our ducts and then the furnace on our townhouse. Thank you guys for your help.
Julie S. Berthelsen
22:02 25 Mar 15
Alberta Furnace Cleaning did a great job cleaning our ducts and furnace
James jackson
06:45 21 Mar 15
Scott Zahenaiko
21:09 18 Mar 15
I called Alberta Furnace Cleaning for our yearly duct cleaning, always do a great job, I like the technician Shane. We have had our service from them

...

in the past 15 years, good job guys.

read more
Emily Grace
23:37 21 Feb 15
Having recently purchased my first home, I wanted to make sure that I was ready for winter. I contacted Alberta Furnace Cleaning to clean the ducts

...

and maintenance the furnace. Response was very quick, professional, and the furnace is running very efficiently, air in my house is cleaner, and best of all, I've noticed my heating bill has gone down. I couldn't be happier with the service that I received from AFC.

read more
Gregory Lawson
03:54 19 Nov 14
Good service for getting ducts and furnaces clean. Heard about this business from a friend, so I decided to give it a go, and within an hour of my

...

call they were there cleaning the place. After the cleaning my wife swears she's breathing better and I have to agree. Wayne and the team really outdid their selves.

read more
Chandler Smith
00:34 18 Nov 14
Hired these guys a couple of weeks ago to get my furnace ready for winter. Orville and his team were very polite and stayed out of my way. They did a

...

great job and I would definitely recommend them! Thanks again guys 🙂

read more
I recently sworn in as a manager of cleaning department of a local company and when I made my first round of the building, I was bit disappointed as

...

the furnaces were filled with filth and dirt. To get rid of the problem, I asked one of my friends who recommended me 'Alberta Furnace Cleaning'. Very good services were rendered by them. they were well equipped and they drained of all the dirt and filth from furnaces. The furnace looked shining as brand new. Their rates are customer friendly and their staff was very co-operative. Highly recommended, i will myself use this company for my work. hats off to you Alberta furnace cleaners!

read more
Asim Malik
07:42 08 Oct 14
I moved in to a new house in Calgary and the furnace there required cleaning. Being new in Calgary, I had no idea about whose services to hire. In

...

the meantime, my neighbor suggested me to hire Alberta Furnace Cleaning Company. They arrived and started with the cleaning within no time. Their services are excellent and the furnace was cleaned spotlessly within a short time, the staff are courteous, polite and speedy with their work. The pricing too is reasonable, which makes them the best guys in town for cleaning furnaces and ducts! Amazing job guys! Would definitely hire them again.

read more
Mark Tylor
17:50 03 Oct 14
Great people they are.They behaved well and talked politely to me.I was very happy with them when i was working.They laughs me a lot while

...

working.the are very much helpful and friendly too.i am highly recommended this to you all.

read more
FRANCES JOYCE
07:43 02 Oct 14
Roto-Whip™ Safe Furnace Cleaning
Alberta Furnace Cleaning uses the exclusive Roto-Whip™  Safe furnace cleaning and air duct cleaning method to deliver the direct surface contact cleaning benefits of old-style brush cleaning combined with the safety of pneumatic cleaning systems.
Our exclusive Roto-Whip™ system penetrates deep into your ductwork and has an extensive reach that can go to any corner of the system without the risk of damaging components such as humidifiers, heating, and cooling entry points and other air ventilation fixtures.
Alberta Furnace Cleaning offers only one method of duct cleaning to our customers because we do not believe in providing a service that is lower than our highest standards. We use the best equipment every time at no extra charge!
We do both residential and commercial duct cleaning ( Need Commercial Duct Cleaning for your business? ) and service the Calgary Metropolitan Area and nearby cities such as Airdrie, Okotoks, Chestermere, Cochrane, and nearby areas.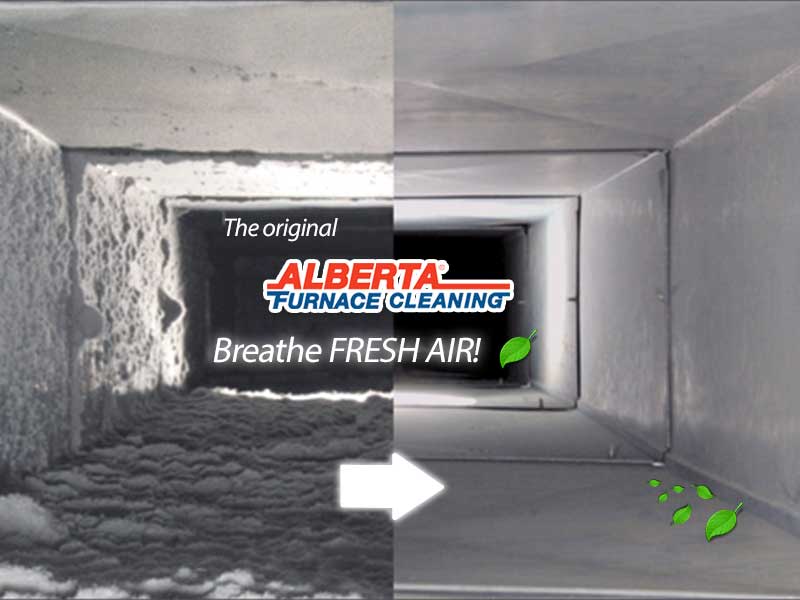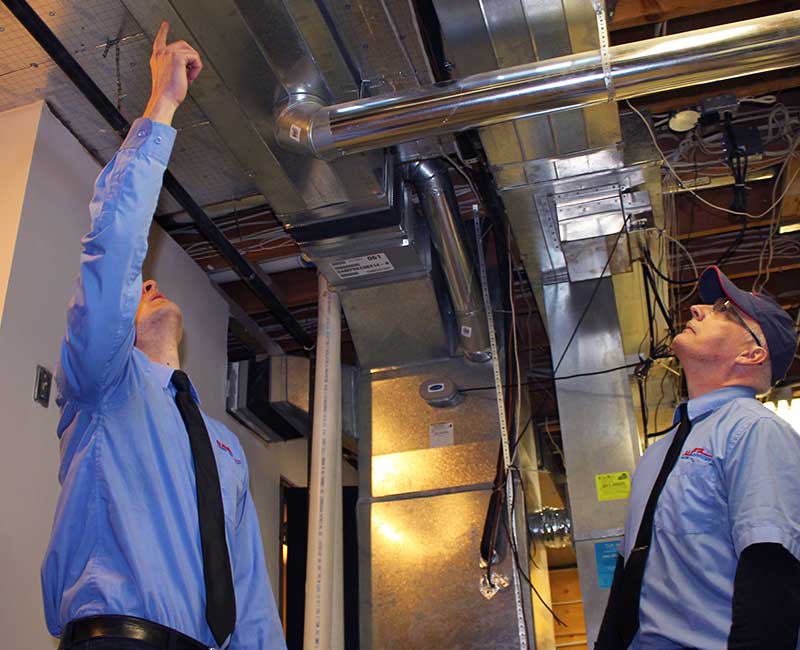 Before the cleaning process starts
After covering their shoes with a clean, new set of boot covers your Alberta Furnace Cleaning technician will complete a thorough inspection of your system before the cleaning begins. Every home is unique and it is very important that your technician examines every detail so they can proceed with the safest and best approach tailored to the uniqueness of your home.
Once the inspection is complete your Alberta Furnace Cleaning Tech specialist will carefully explain the work that will be performed before it is done.
Our Process:
Service call gets booked
Confirmation with the client before the truck arrives
Initial assessment of the technician to match the quote with the job
Suggestions and add-ons might be offered accordingly if needed
Service is performed at the location
Post service follow-up to ensure your satisfaction with the service.
The outside of your furnace is wiped down.
Benefits of regular duct cleaning
Professional furnace and duct cleaning are essential to maintaining a healthy environment. The Service virtually pays for itself on energy savings alone by making the air flow of your ductwork much more efficient. The service is recommended at least once every 2 years and in some cases once a year depending on your manufacturer's warranty.
Clean furnace and ducts will reduce breathing health related illnesses and increase productivity at home and work with a healthy flow of fresh air. Many studies have concluded that a good flow of fresh air increases productivity and overall well-being of the company and its employees.
Among the household benefits, the following are the most common:
Reduced wear and tear by cooling and heating appliances
Reduced energy bills ( thanks to a freer air flow )
Increased intake of fresh air which translates into many health and wll-being benefits
Reduced amount of cycling smells in the house
Reduced accumulation of dust in the house
Reduced indoor pollution ( reduction of allergic reactions, breathing issues )
and much more …
We invite you to also read our article on 'why furnace and duct cleaning' for more information.